5lt tin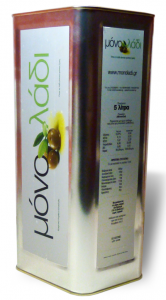 We select the best extra virgin olive oil and we package it in 5 liter tins.
The procedure of filling the tins is of high specifications. The extra virgin olive oil has no contact with air or other elements that could deteriorate its quality and organoleptic characteristics. It is firstly stored in galvanized tanks for quality assurance and is travasated in tins with galvanized pumps.
With every order we supply the tin, a certifications of the extra virgin olive oil (chemical structure from an official statal chemist) and an invoice.
We provide what we consume!